LAREINE-MENU-ANGL
????
LAREINE is a Japanese rock band that was part of Visual Kei. Why talk here about a group of Visual Kei ?
Because this group is part of the Ikedian world : he took over the song of the credits of the anime, but not only ...
Born in the mid-90s, LAREINE lasted nearly ten years. Ten years of success but also hot: departures, returns, break ... A group with a musical and visual universe marked by the seal of romance and magic. Love stories told with colors and poetry. Melancholy too ... and roses, roses everywhere on stage, in costumes and in songs ...
LAREINE seems to have marked the memories in view of articles and blogs that speak about it and that offer photos. The videos on Youtube are always very watched.
As for its history, I decided to use the article of "Visual Kei Encyclopedia" in English, which is quite complete and very well structured in terms of chronology. To not only translate this text, I will complete the article if I see any gaps and I will propose as much as possible links to music tracks, official or live clips as well as photos according to the different periods for really good immerse yourself in this rich universe full of poetry.
LAREINE is also the beginning of an artist always present on the stage of Visual: Kamijo. He begins in music with this band and his world and his gestures will be polished over the years. Everything is already there and what will come after will be only the continuity of this evolution.
An elegant and bright baroque musical universe, influenced by classical music, Kamijo's passion for film music and French culture (many titles are in French, lyrics too, not to mention the texts read in French in the songs where concerts, Lillie's letters for example).
The story of LAREINE spans more than ten years with a break of nearly a year, so I decided to split the history and chronology of the group into two chapters. Since LAREINE is also a real narrative, a story in the background very strong in the songs, I also created a particular page for their story, starting with that of Lillie Charlotte.

To finish the name LAREINE, where does it come from? It seems that from the beginning it is a reference to Marie Antoinette! Yes the same who is at the origin of Riyoko Ikeda's "The Rose of Versailles". That the group made a cover of the credits of the anime and that it was entitled to illustrations and costumes designed by Ikeda Sama makes it an element of choice in the Ikédien world of this site. Not to mention that Mrs. Ikeda herself sings in the background of this song. Yes, she is credited as Soprano? ( Site Discogs : Soprano Vocals – ???? ""????????" is a cover of the opening song of the anime "The Rose Of Versailles". Ryoko Ikeda, author of the manga, drew illustrations for the single and also contributed providing soprano vocals." )
Kamijo has never hidden in interviews having liked the manga of Riyoko Ikeda, not to mention that this story and its aesthetics influence many works of the group. He's still inspired by the history of France in his current project ... ... Marie-Antoinette is always here!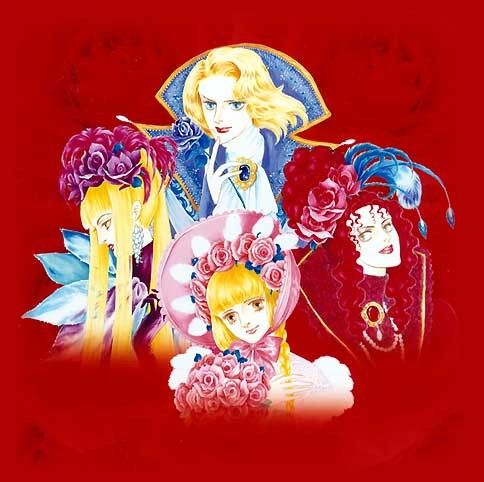 LAREINE - Illustration : Riyoko Ikeda