VERSAILLES - menu angl
Think of it like a film. With a movie, the soundtrack follows the drama.
But with visual kei, it's the other way around :
we begin with the music and then build the visuals around it.
—KAMIJO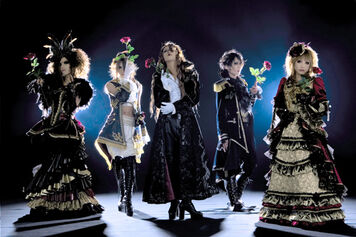 Versailles, what a name more evocative than this one ! LAREINE was already part of the Ikedian universe, Versailles remains in this continuity. Versailles, the aristocracy, the eighteenth century, all these ingredients that remain in the spirit of this site and "The Rose of Versailles". Versailles and its concept are not directly related to the work of Riyoko Ikeda, the universe is here quite different. The group tells us here the story of the Descendants of the Rose (Descendants of the Rose) a story of Vampires. You will still notice the Ikedian logo in the devil with the name of the group entwined with thorns of roses which is not without reminding the image of Oscar in the brambles of the credits and the Logo Lady Oscar with the name of the Animated Series
Versailles is a concept, a music and a group with a beautiful alchemy between each member. Fans are numerous and detractors too. I like the idea, their music and the visual I just like it. I am not going to look here to make an article to beatify them or to bring them down, I will try to remain objective, to say what I sometimes think. I am not an expert in Visual Kei, nor Metal nor music in general I repeat. I know it's not the most innovative, original or virtuoso band in the world I'm not going to do groupie. I love their music and their universe, and I just fell in love with the voice of Kamijo (that's not explained). It's the same for their albums, I will not detail the periods "Lyrical Sympathy", "Noble" and "Jubilee" to quickly go on "Holy Grail" and "Versailles" like most bios and articles on the group, whereas these are periods rich in events too.

It is commonly said and written by fans and non-fans that their passage in major has seen the quality of their production decline, that "Holly Grail" and "Versailles" are not good albums, less creative and redundant "Jubilee" is a rich album with a masterpiece title, "God Palace" and this is their first album in major.


Versailles is reproached for making Versailles and for not renewing itself. We can not be all the time in the surprise and the change either, if it had been the case they would have accused them to deny ... I do not know what to answer that. Voulzy does Voulzy and yet we do not blame him to be true to himself? So yes these last two albums have some songs less powerful or more "mainstream" than others, it's a bad thing?
I discovered Versailles with "Aristocrat Symphony" I did not dive in deep even though I loved, the period was not conducive to that. I rediscovered at the end of 2015 via "Holly Grail" and especially "Masquerade" and I loved this song, it is very well written and can really serve as an introduction to this universe. The more I listen the more I like other things and now the first album is now my favorite, I like some things about others, for what I like least I zap and then that's all, that's nice surely to other people. We can not please everyone with everything. I like their production in its entirety, and like everyone else they have done wonders and things that are less transcendent. It's like that and it does not make them any less interesting. I just notice, with time and listening, that the titles I prefer are those composed by Kamijo, his style is clearly the most symphonic within the group. They are also the biggest "hits" of the group ... It is also curious to note that Hizaki's compositions are much more symphonic oriented in his solo projects than in Versailles.
For this article, as for the rest of this site, I will try to document myself properly and gather as much information as I always do, to try to restore the most complete information possible so that the one who reads me without knowing the subject can understand as much as possible. I will do the best I can and if you see any inaccuracies, do not hesitate to communicate them to me, I'm not the type to proclaim myself a specialist and I do not have the infused science and there are surely errors !

I relied on Wikia's article for structure and dates. To not stupidly content to translate it, I will like for the article on LAREINE put links to the videos promos, the albums to listen on youtube, pictures to show the costumes in every era, because the same I did not not found a page or site that listed all that. There are a lot of pictures of this group and the costumes are a precise clue to know the date (and in addition we can rely on a hair dating Kamijo that changes a lot of cut and color!). Some photos also present them in different outfits, they are collaborations with brands of clothing and there too not easy to navigate. I will also complete the infos with the article Wikipedia, the interviews of the group, finally all that can give a complete vision of the career of Versailles between 2007 and 2012. I will try not to forget to link the songs of which I speak with a video youtube (a click on the title of the song and zou it is listening) or a link to the discogs website that details the tracks and people who worked on this album.

For the rest, it's coming, I'll follow the news with social networks, it's a different writing.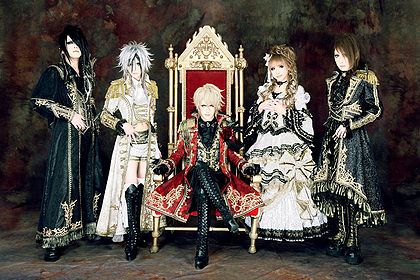 To start, the concept, because Versailles is a story at the base, even if the basic concept is more or less supported over the years, it seems that Kamijo who is very involved in this concept of stories is less followed by other members as was the case in LAREINE's time. There is only to see the place of narration in his solo career to realize it.
So let's start by explaining that, I will come to the chronology of the group after this small introduction.
Initially, there is "The Returning Choir", their first title released that sketches the beginning of the story by a spoken introduction in English:

"Aristocrats beautifully attired in a world filled with the smell of roses. There lived two clans, one, who believed that death foreverlasting happiness.the others seek eternal life. One day, both dreams become reality, the others would never be destroyed.They were forced to live in loneliness, like a never ending punishment.
June 2007. The others time had come. Descendants of the rose appeared. within meaning, the memory of that day came flooding back and the story begins ... »

"Beautifully dressed aristocrats lived in a world filled with the smell of roses. There lived two clans, one, who believed that death brought eternal happiness to others who sought eternal life. One day, the two dreams are concretized, and the second would never be destroyed. They have been forced to live in solitude, as a punishment that will never end.
June 2007. The time of others had come. The descendants of the Rose have appeared, in the meaning, the memory of this day has resurfaced and the story begins ... "
As the introduction makes clear, clothing and therefore stage costumes will have a real importance, just like music and background story. They liked this style "Grand Siècle" and decided to go there for their concept (interview Nippon Project ). Whether we like this style or not, it is undeniable that it also contributes to the show, the atmosphere and the story told through the songs.

When you're used to Western metal, the style may surprise, because for most of us, metal is synonymous with Viking jeans and t-shirt, hairy and bearded, more or less combed and flavored with beer!
Versailles is not at all that! I also specify that all the members of this group are men, I think it is useful in view of the comments on Hizaki under Youtube videos and elsewhere. As with many Visual groups, androgyny and ambiguity of characters is desired. It's classic, let's say, in the genre. The Visual Kei is a matter of men listened to by women ... but for Versailles it is a little more complicated on that side.

First, in addition to the story, each member of the group is a character (read in an interview conducted in the US): Kamijo is a Vampire Prince, Hizaki a Princess, Teru the wandering boy, Yuki a hunter and Jasmine You a witch. The details of these characters are given in an interview of Nippon Project in April 2008. Kamijo also talks about the stories of the songs in this interview and admits that sometimes the lyrics stick to the characters by coincidence and that everything is linked like a movie music . In a 2008 interview for Orient Extrême in Paris, they joke about their roles and Teru is called Jester because he is the prince of the gag according to the other members. It often appears that this boy would be an end-to-train.Each member also has colors of predilection, it will be mostly respected in costumes, there will be exceptions according to singles and albums.

For starters, Kamijo, his dominant colors are black and white. Hizaki, the red. Teru is in the light blue, and Yuki in the dark blues. Jasmine You has purple for the dominant color and Masashi later will be mostly black, sometimes punctuated with red. All in a very baroque style, loaded and generously embellished with orally gilded, roses and feathers. Kamijo for example always wears a rose on his costume (except on Destiny The Lovers) and there are very often feathers. Hizaki often has flowers on her dresses. For Jasmine it's feathers and flowers galore in the hair. Teru almost always wears very short shorts and jackets that show her belly. Yuki is the most discreet of all in his costumes.
To learn more about each member of Versailles, click on the image above to access a page that will summarize everything
And that will take you to the pages that deal with this in more detail for some.
After the concept, place in the chronology.

Deux voies différentes...
2013 - 2016
Kamijo annonça le début de sa carrière solo en janvier 2013. Hizaki, Teru, Yuki et Masashi ont décidé de fonder de leur côté un nouveau groupe, « Jupiter » avec Zin comme vocaliste.
Cliquez sur le logo de chacun pour en savoir plus :